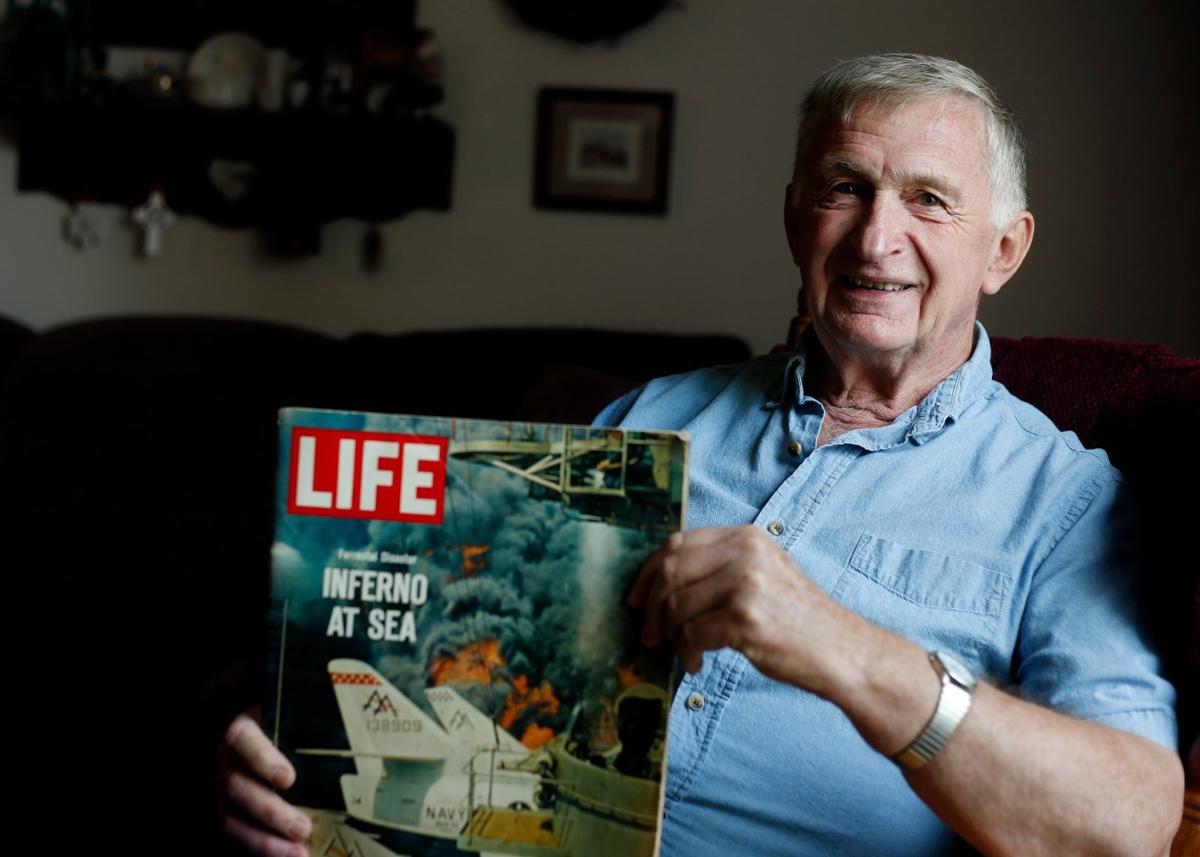 Originally Published in The Billings Gazette
September 18, 2018
By Mike Ferguson
mferguson@billingsgazette.com
A Billings man who served on the flight deck of the aircraft carrier USS Oriskany during the Vietnam War might have been the last American to see Navy aviator Lt. Cdr. John McCain before McCain was shot down over Hanoi and captured on Oct. 26, 1967.
McCain, a veteran senator and 2008 GOP presidential nominee who died Aug. 25 and was eulogized a week later by former presidents George W. Bush and Barack Obama, spent nearly 5½ years as a prisoner of the North Vietnamese, suffering torture and solitary confinement at the hands of his captors.
It was the job of Don Regnier, now 72 and a retired Billings fire captain, to use a bar to guide the nose of aircraft, including McCain's A-4E Skyhawk, into the catapult that launched them off the deck of the Oriskany into bombing missions against the North Vietnamese.
"I worry that I was the last one to see him," Regnier said. "It definitely crossed my mind."
Regnier's close friend growing up, Greg Szudera, who would have 28 years as a Montana Highway Patrol trooper and is the former Hill County sheriff, could have been the sailor to have filled McCain's fighter with jet fuel that autumn day — but he's not sure.
"I fueled a lot of planes then," he said. "That was more than 50 years ago."
Both enlisted men recall the friendly exchanges pilots would have with flight deck crews.
"They would come out and ask us how we're doing," Szudera said. "They'd tell me, 'I hope you filled it up good.' We all had a job to do, and we worked together to get it accomplished. It was always nice to talk with them, because they were real people."
Regnier kept a log of all the pilots stationed aboard the Oriskany who'd been shot down and their status — killed, captured or recovered.
"Before McCain was shot down, we had lost 10 or 15 pilots shot down over Vietnam," he said. "Every time he launched, that had to be on his mind. 'Will I be killed or captured or shot down?' And they did it anyway. To me that is a hero."
Regnier labeled as "shameful" President Donald Trump's initial reluctance to credit McCain for his heroism after the senator's death from brain cancer.
"All those pilots were heroes," Regnier said. "We always looked up to all of them."
McCain came to the Oriskany after a July 29, 1967, fire aboard his aircraft carrier, the USS Forrestal, which killed 134 sailors. He requested a transfer to the Oriskany.
"He had the chance to go back to the States and not come back, but he volunteered to go on board our ship, which had lost some A-4 pilots," Regnier said. Exactly a year before McCain was shot down — Oct. 26, 1966 — the Oriskany suffered an explosion and fire of its own, killing 44 sailors, including a few combat pilots.