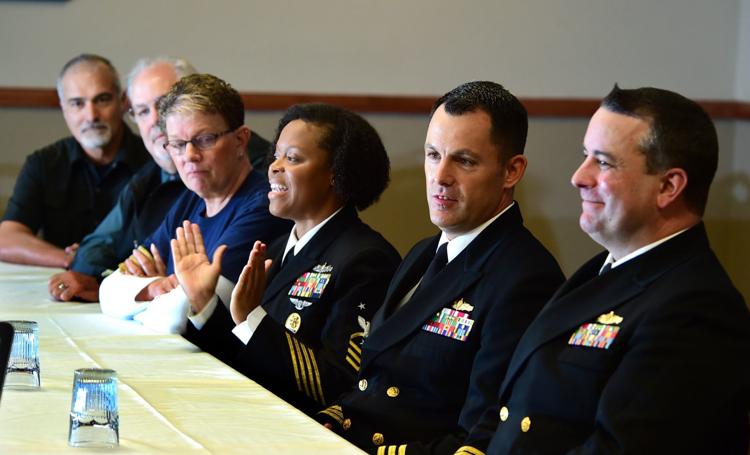 Originally Published in The Billings Gazette
October 5, 2018
By Mike Ferguson
mferguson@billingsgazette.com
Members of the USS Billings' Blue Crew compare their almost ready Freedom-class littoral combat ship to a sports car.
"You can say that it's super cool," said Aaron Helgerson of Freeman, South Dakota, the ship's executive officer.
Along with the ship's highest-ranking enlisted member, the USS Billings' top officers — Commanding Officer Michael Johnson of New Orleans, Helgerson and Dennisha McElveen of Fountain, Colorado, the crew's command master chief — are in Billings to see a few sights and meet with the city's commissioning committee, tasked with raising as much as $350,000 to, as early as next summer, celebrate the ship's seaworthiness at a location and date still to be determined.
Sharla Tester, the wife of U.S. Sen. Jon Tester and the ship's sponsor, said it's important that Billings and the rest of Montana establish connections with both the ship, which is nearly ready for testing at a shipyard in Marinette, Wisconsin, and the 70-member Blue and Gold crews.
"It's a big deal for the city of Billings," she said Thursday morning while seated alongside the USS Billings brass, which was preparing to meet with the city's commissioning committee. "I feel my role is to see to the needs of the ship and the crew. They all have families, and I tell them if there's anything they need, they can get hold of me."
Her husband "has taken a back seat" to her work supporting the crew, she said.
"He called it a boat once," she said with a grin, "but he only did that once."
"I think the tie (with Billings) has been awesome," Helgerson said. "Cruisers are named after famous battles, and destroyers after Medal of Honor winners. These (littoral combat) ships are named after smaller cities you wouldn't think have a tie to the Navy, but you find people excited to be part of it."
"You'd be surprised," Johnson added, "how many Navy folks are from the Midwest."
Ron Spence, who's chairing the commissioning committee, said fundraising "is still in its infancy."
"We knew we'd have to raise some money, but we weren't sure how much until we started talking to other committees" that had raised anywhere from $300,000 for their commissioning ceremony to $3 million, Spence said.
Some of the money raised covers the cost of the commissioning celebration. Another portion goes to take care of the crew's downtime, from electronic gaming to reading. Still another part is reserved for scholarships for the families of crew members.
The date and place of the commissioning will be determined by a number of factors. Johnson said the current schedule calls for the ship, designed to operate in waters as shallow as 14 feet, to begin testing next month, which could result in a summer 2019 commissioning.
If that's the case, some cities wouldn't be available to host the commissioning gala because of the large number of cruise ships using their ports during the summer months.
One thing's for certain: Once it's in fighting form, the USS Billings will be stationed at Naval Station Mayport in Jacksonville, Florida. Johnson said deployments, which last 7-8 months, will take crews everywhere from South America to the Middle East.
Currently, the remainder of the Blue Crew is in Marinette, working with its sister crew staffing the USS Wichita, another Freedom-class littoral combat ship. Once that ship sails away in March, the Blue Crew will begin basic training required to staff the state-of-the-art USS Billings.
Before they're deployed, they'll be trained in three phases — basic, intermediate and advanced — in such areas as surface warfare, medical care and damage control, including firefighting.
The newest littoral combat ships are powered by a water jet propulsion system. Johnson, an 18-year veteran, described the new class as "definitely faster and very maneuverable."
Crew members, he said, must advance along a learning curve to learn all the new technology on board. The Freedom class is a new class for the Navy, he said: "It's a first for any of us who have served."
Dave Anderson, himself a retired 31-year Navy veteran, heads a team the Navy uses to plan and organize commissioning festivities.
"For landlocked states, we work with those communities in partnership with the coastal communities" used to hosting commissioning ceremonies, he said. "We are looking for communities with appetite."
"We've never been through the pre-commissioning experience, so this is a first for us," said McElveen, the Blue Crew's top enlisted member. "This ties us to the community, and it establishes ownership and belonging. We will put on a really good show for Billings."